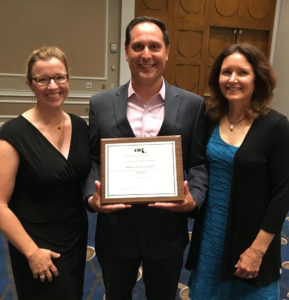 On August 19, Dr. Bill Foley was honored by the Massachusetts Osteopathic Society (MOS) during their annual membership meeting. He was presented with a plaque recognizing his four years of service as the organization's president. Pictured here with him is Dr. Kristin Foley (left – MOS Trustee) and Dr. Kathi Riggert (right – MOS Treasurer). Congratulations Dr. Foley!
All three physicians at Boston Osteopathic Health have been involved in the MOS for years. In taking over as president for the past 4 years, the goal was to increase membership, balance the budget, and increase advocacy for Osteopathic Medicine. As a result, membership increased by over 100% and the MOS is as fiscally sound as every. The MOS continues to advocate for Osteopathy through continuing education courses, working with the Commonwealth to keep Osteopathic equality, and protecting the rights of Osteopathic physicians.
About the Massachusetts Osteopathic Society
The Massachusetts Osteopathic Society's mission is to advance the philosophy and practice of osteopathic medicine through quality education, research, professional standards and ethics, advocacy, and the delivery of effective and efficient healthcare for the well-being of citizens within the Commonwealth of Massachusetts. Learn more about MOS at their website.