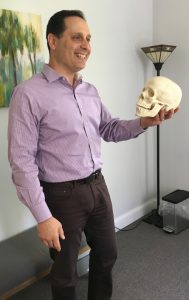 William Foley, DO was recently promoted to Adjunct Assistant Professor in the Department.  Dr. Foley received his Doctor of Osteopathy degree from the University of New England College of Osteopathic Medicine – Biddeford, ME in 2001 and completed his family medicine residency program at the Fitchburg Family Practice Residency Program in 2004 where he served as Co-Chief Resident.  Following his residency training (2004-06) he completed a Master of Science degree in Neuromusculoskeletal Medicine and Osteopathic and Manipulative Medicine (OMM) through the Philadelphia College of Osteopathic Medicine.  He joined the Department as an Instructor in 2005 employed by Great Brook Valley Family Health Center as their Director of OMM, Osteopathic Consultant and Family Physician, and also provided OMM consultations for Hahnemann Family Health Center (2006-07).
Dr. Foley has served as preceptor for medical students for several years allowing students to observe OMM and its benefits to patients in a private practice setting, Dr. Foley has proposed creating a resident interest group focused on manual medicine.  Given the expansion of his clinical practice to Westboro, MA he hopes to increase his exposure to UMass students and residents.    He also offers a Flexible Clinical Experience (FCE) in his office for 3rd year osteopathic medical students.
Dr. Foley has contributed to texts including the 5-Minute Clinical Consult, Orthopaedic Knowledge Update: Spine 4 and Foundations of Osteopathic Medicine, co-authoring chapters on topics such as fibromyalgia, osteopathic manipulative treatment, difficulty breathing and myalgia.
As a busy physician in private practice, he has found ways to succeed in professional service and maintaining leadership positions.  Dr. Foley is currently the President of the Massachusetts Osteopathic Society and also serves on its Board of Directors.  Additionally he is the Membership Committee Vice Chair and committee member for the American Academy of Osteopathy.